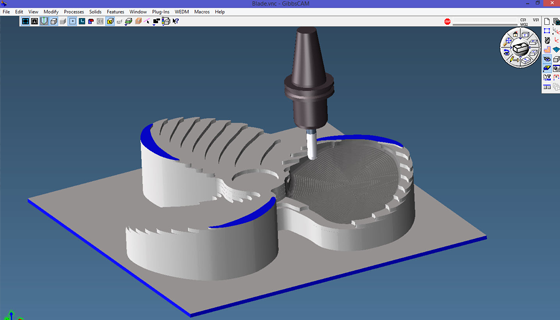 3D Systems will hold a free, live webinar on using GibbsCAM 3-Axis Machining for CNC on May 20, 2015 at 11 am Pacific Standard Time, 2 pm eastern.
The webinar is a perfect opportunity to experience 3-Axis GibbsCAM in action, in real time, and can help those who are considering a step up to faster, more efficient, more productive CNC programming. It is ideal for programmers, machinists and engineers who need to speed up their programming, overcome limitations of current programming methods, make machining more efficient, and better utilize their CNCs to make manufacturing faster and more profitable. 
Geared for operations with 3-axis machines, and for those who are not efficiently machining solids and surfaces from solid CAD models, the webinar will use real-world parts to demonstrate:
Ease of tool specification and selection, 
Roughing and finishing with traditional machining styles,
Using advanced and high-speed roughing and finishing,
Verifying toolpath while checking for gouging and interference, and
The array of GibbsCAM Advanced 3D features that increase productivity. 
Learn more about 3DS' commitment to manufacturing the future today at www.3dsystems.com.
---
3D Systems について 
3D Systems provides the most advanced and comprehensive 3D digital design and fabrication solutions available today, including 3D printers, print materials and cloud-sourced custom parts. Its powerful ecosystem transforms entire industries by empowering professionals and consumers everywhere to bring their ideas to life using its vast material selection, including plastics, metals, ceramics and edibles. 3DS' leading personalized medicine capabilities save lives and include end-to-end simulation, training and planning, and printing of surgical instruments and devices for personalized surgery and patient specific medical and dental devices. Its democratized 3D digital design, fabrication and inspection products provide seamless interoperability and incorporate the latest immersive computing technologies. 3DS' products and services disrupt traditional methods, deliver improved results and empower its customers to manufacture the future now. 
革新とテクノロジーを通じたリーダーシップ
3DS は光造形 (SLA) プリンタで 3D プリンティングを発明し、1989 に初めて商品化しました。
3DS は選択的レーザー焼結 (SLS) プリンティングを発明し、 1992 に初めて商品化しました。
3DS は 3D プリンタのカラージェット プリンティング (CJP) クラスを発明し、 3D 粉末ベースのシステムを 1994 に初めて商品化しました。
3DS はマルチジェット プリンティング (MJP) プリンタを発明し、1996 に初めて商品化しました。 
3DS 医療用模型は仮想外科手術計画 (VSP) を開発し、そのサービスは世界をけん引し、毎年何千人もの患者を救っています。 
今日、3D プリンタ製品群全体は航空宇宙、自動車、患者固有の医療用機器および様々なコンシューマー向け製品、電子機器およびファッションアクセサリーにおけるプロダクショングレード製造向けの業界基準になっています。
More information on the company is available at www.3dsystems.com. 
---
---
Forward-Looking Statements
Certain statements made in this release that are not statements of historical or current facts, including statements regarding the expected benefits and synergies of the transaction, future opportunities for the combined company and products, future financial performance and any other statements regarding 3DS' and Cimatron's future expectations, beliefs, plans, objectives, financial conditions, assumptions or future events or performance are forward-looking statements within the meaning of the Private Securities Litigation Reform Act of 1995. Forward-looking statements often use words such as "anticipate", "target", "expect", "estimate", "intend", "plan", "goal", "believe", "hope", "aim", "continue", "will", "may", "would", "could" or "should" or other words of similar meaning or the negative thereof. These statements are subject to numerous risks and uncertainties, many of which are beyond the companies' control, which could cause actual results to differ materially from the results expressed or implied by the statements. These risks and uncertainties include, but are not limited to: the ultimate timing, outcome and results of integrating the operations of Cimatron; the effects of the business combination of 3DS and Cimatron, including the combined company's future financial condition, results of operations, strategy and plans; expected synergies and other benefits from the proposed transaction and the ability of 3DS to realize such synergies and other benefits; results of litigation, settlements, and investigations; the availability and alternative uses of 3DS' cash; actions by third parties, including governmental agencies; protection of intellectual property rights and against cyber attacks; compliance with environmental laws; changes in government regulations and regulatory requirements; risks of international operations, including risks relating to unsettled political conditions, war, the effects of terrorism, and foreign exchange rates and controls, international trade and regulatory controls. The factors described under the headings "Forward-Looking Statements," "Cautionary Statements and Risk Factors," and "Risk Factors" in 3DS' report on Form 10-K for the year ended December 31, 2013 and Cimatron's report on Form 20-F for the year ended December 31, 2013, and other U.S. Securities and Exchange Commission (the "SEC") filings of 3DS and Cimatron discuss some of the important risk factors identified that may affect these factors and 3DS' and Cimatron's respective business, results of operations and financial condition. 3DS and Cimatron undertake no obligation to revise or update publicly any forward-looking statements for any reason. Readers are cautioned not to place undue reliance on these forward-looking statements that speak only as of the date hereof.